| | |
| --- | --- |
| Subproblem 4b - Page 1 of 4 | ID# C304A05 |
Sub-problem 4b: Two-way Stop Controlled Analysis
Step 1. Setup
Exhibit 3-28. Conventional Intersection Conflicts
<![if !vml]>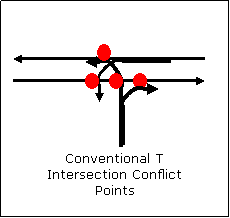 <![endif]>
The unusual geometrics, especially the physical distance separating the conflicting movements at the Krome Avenue/Okeechobee Road intersection, will require some thought about how to represent the intersection for analysis by the HCM procedures. The conventional intersection conflict points are shown in Exhibit 3-28. Because of the wide separation of conflicts at this intersection, it should occur to us that we probably shouldn't treat this situation as a typical urban intersection.
In this sub-problem, we will carry out a conventional intersection analysis. Then we will examine the results to determine if our treatment was appropriate.
Consider:
| | |
| --- | --- |
| | What movements are considered in the HCM procedures? |
| | What is the basis for determining LOS in the unsignalized intersections methodology? |
Discussion:


Take a few minutes to consider these questions. Click continue when you are ready to proceed.